Grimshaw Was a Right-Handed Switch-Hitter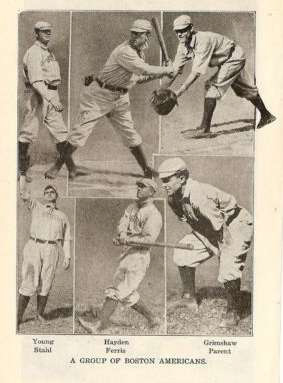 ---
The Boston (Red Sox) Americans came to town, it is believed, because of a significant local connection…
Myron Frederick "Moose" Grimshaw was a right fielder in who played from 1905 through 1907 for the Boston Americans. Grimshaw was a switch-hitter and threw right-handed. He was born in St. Johnsville, New York and raised in Canajoharie.
In a three-season career, Grimshaw was a .256 hitter (229-for-894) with four home runs and 116 RBI in 259 games, including 104 runs, 31 doubles, 16 triples, and 15 stolen bases.
He came back to Gloversville after his career was over and became a player/manager for the semi-pro Danforths, who played on JAG Park.
Grimshaw died in Canajoharie at age 61.
---