Danforths Won in the Tenth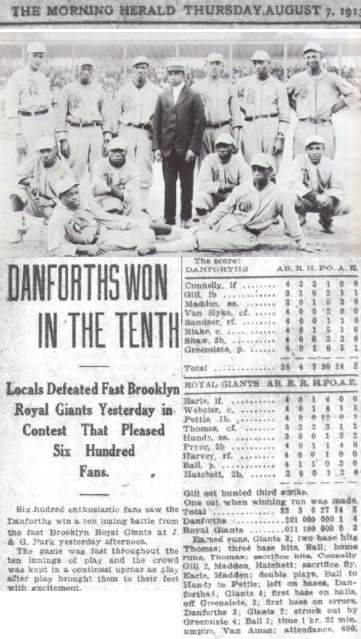 This article dated 8/7/1913 recaps the game from the night before, won by the local Danforths, against
the Brooklyn Royal Giants.
The Brooklyn Royal Giants were a professional baseball team based in which played in the Negro Leagues. They were one of the premier professional teams before World War I, winning multiple
championships in the East.
---
THE MORNING HERALD THURSDAY, AUGUST 7,  1913
DANFORTHS WON IN THE TENTH
Locals Defeated Fast Brooklyn Royal Giants Yesterday in Contest That Pleased Six Hundred Fans.
Six Hundred enthusiastic fans saw the Danforths win a ten inning battle from the fast Brooklyn Royal Giants at J. & G. park yesterday afternoon.
The game was fast throughout the ten innings of  play and the crowd was kept in a continual uproar as play after play brought them to their feet with excitement.
---