What Fun a Fan Could Have for $.25 a Game!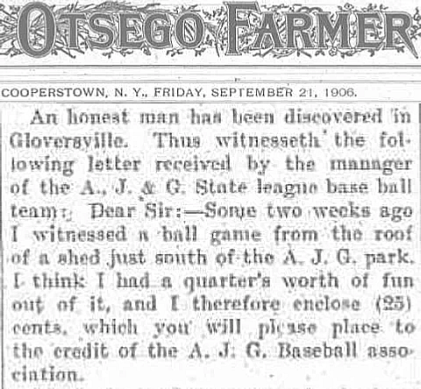 ---

Originally Known as A. J. & G. (Amsterdam, Johnstown & Gloversville) Park, the local railroad company F,J&G, built the park as a tourist attraction and stop on the railroad.

This article dated 9/21/1906 is an example of the fun a fan could have for $.25 a game!
---
OTSEGO FARMER, Friday September 21, 1906
An honest man has been discovered in Gloversville. Thus witnesseth' the following letter received by the manager of the A. J. & G. State League base ball team:
Dear Sir:- Some two weeks ago I witnessed a ball game from the roof of a shed just south of the A. J. & G. park. I think I had a quarter's worth of fun out of it, and I therefore enclose (25) cents. which you will please place to the credit of the A. J. & G. baseball association.
---